Stone Veneer Sheets Indian Autumn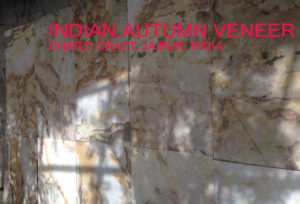 Flexible stone veneer sheets Indian Autumn is prepared from big pieces of Natural  Indian Autumn Slate. Especially Indian Autumn is most selling stone veneer sheets. In addition Flexible slate veneer is environment friendly. Stone veneer sheets  yields many layers of the most beautiful slate blocks available in India. Especially Each sheet produced is unique and has the same look and feel of the original block. Furthermore The backing of natural materials further makes it easy to cut and glue  onto many surfaces
Thin stone veneer is used for Commercial, residential, interior or exterior applications. In addition walls, kitchens, bathrooms, entryways, fireplaces, even your pool area. Our product furthermore, offers flexibility in architectural and decoration applications. Veneer Sheets are used for both interior and exterior and especially where bending to a curved surface is required. Flexible stone veneers are especially made from various types of slate, schist, Quartzite, marble, sandstone etc. We finally offer 22 plus different  Slate colors providing endless possibilities for your projects.
Specification Flexible Stone veneer sheets:-
100% natural stone surface 
Backing: Fibre Mesh 
Thickness  between  1,0 to 2,0 mm 
Weight approximately 2,0 kg/m² 
Sizes: 1220 mm x 610 mm or 2440 x 1220mm. 
Size accuracy 2-3 mm in length and width 
Tolerance may be adjusted for industrial application
Thin stone veneer sheets is a veneer with a layer of stone 0.5mm thick and  with fiber mesh approx. 1.0mm thick, overall thickness is 1.5mm to 2 mm.
Each sheet of Flexible Veneer has a low variation as compared to natural stone being many sheets are prepared from a single stone. In addition Slate Veneer being Natural stone, the variation in color & texture enhance the beauty. Flexible thin slate veneers  also referred  as: flexible stone cladding Veneer, Super Thin Stone, Micro thin Stone, Micro thin Slates. In addition Natural Slate Veneer, lite stone veneer,  natural stone veneer sheets, cladding stones, ultra thin stone. furthermore Flexible Slates, lite slate veneer, translucent stone veneer, flexible stone panels, flexible stone cladding, backlit stone veneer.
DHARTI CRAFT make sure that the buyer will get the best quality after proper quality inspection. We are referred as Flexible Slate veneer Indian Autumn Manufacturer, Flexible thin Slate veneer Supplier, Flexible thin Slate veneer Wholesaler and Flexible thin Real Stone veneer Exporter from India. Dharti Craft is a Translucent Flexible Slate stone veneer manufacturer, supplier, wholesaler and Exporter from Jaipur, Rajasthan, India.
You are welcome to write us for your requirements of Flexible thin stone veneer Indian Autumn. Click here.